European Massage Therapy School is accredited by the Accrediting Bureau of Health Education Schools (ABHES)
What does it mean when a school is accredited?
The school meets or exceeds national standards of educational performance for its curriculum set forth by an impartial nongovernmental agency.
The school may be recognized by the US Department of Education as a Title IV school, meaning that the institution can provide Federal Financial Aid.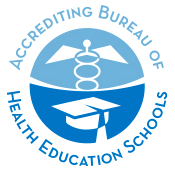 Why is this important to me?
Accreditation ensures that your education is recognized anywhere in the United States (licensure requirements vary by state)
European Massage Therapy School is held to higher standards of education and provides a comprehensive massage therapy curriculum including training from industry-leading instructors
Our school adheres to strict educational and operational requirements to ensure the success of all of our students
You can receive Federal financial assistance in the form of grants and loan (available to those who qualify)
Looking for accredited massage therapy courses? We are among the top accredited massage schools in Nevada!
Licensed vs. Accredited
Massage therapy schools are licensed by the State of Illinois & the State of Nevada. This is a license to operate and not accreditation. Students attending non-accredited schools will generally pay out-of-pocket. Non-accredited schools may not meet the same stringent standards as accredited schools. It's in your best interest to seek out only accredited massage therapy schools.
Accrediting Bureau of Health Education Schools
6116 Executive Blvd.,
Suite 730, North Bethesda,
MD 20852
Fill-in the contact form and get immediate assistance from our educational consultant.